Neon News
Gallery
Neon Sign Saga
Articles
Meet the Author
Order the Poster
Web Links
Home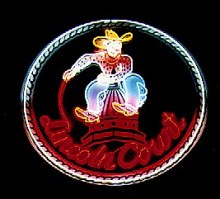 August 20, 2009
© Douglas C. Towne

Neon News . . . .
Society for Commercial Archaeology Election Results
I was recently selected to fill a seat on the Board of Directors for the Society for Commercial Archaeology (SCA) and have also taken on the role of Book Review Editor for the SCA Journal. Feel free to email me with questions or suggestions about this excellent organization.
Classic Motel T-Shirts Available!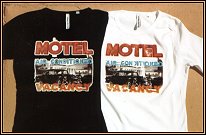 My images of classic motels have been used in a line of t-shirts by the Los Angeles clothing design firm Charlotte Tarantola. Do note though that the designs are of the older hotels, so don't expect images of more modern hotels such as The Britannia Hotel Manchester. Charlotte's inspiration for her line is designing things she loves that makes her smile. Her favorite pieces are "blinding" images of great items that would never get made at a regular company because they're "impractical". The look of the line is about getting noticed and consists of t-shirts that start conversations.
The motel t-shirts are available at Nieman Marcus, Nordstrom's, Macy's, Anthropologie and Ritzy Rags. Visit Charlotte's design firm.
Americana Stock Photos
Stock photos with Americana themes are now available from the artist. User fees for images are competetive and negotiable depending upon the intended use of the photograph(s). Listed below are broad topics from which a variety of images are available. Commercial advertisements, particularly day and evening images of neon signs, are a specialty topic. Sample images are also featured below.
Commercial Structures
Industrial Scenes
Miscellaneous Topics
Motels
Hotels
Bars
Restaurants
Theatres
Casinos

Dams
Irrigation Canals
Windmills
Mines
Railroad Structures
Bridges
Water Towers
Corrals
Grain Elevators
Ranches

Billboards
Ghost Paintings
U.S.-Mexico Border
Petroglyphs
Roadside Shrines
Native American
Structures