Neon News
Gallery
Neon Sign Saga
Articles
Meet the Author
Order the Poster
Web Links
Home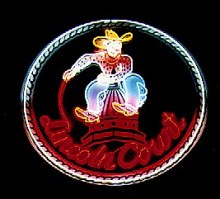 May 24, 2008
© Douglas C. Towne

Gallery . . . .

My pieces that comprise the "Lighting Up the Past" exhibit highlight independent businesses whose only remaining vestiges may be their most pedestrian wares: matchbooks, postcards and window decals. These advertisements proudly display their owner's names and feature phrases and telephone exchanges undecipherable to today's youth.
These pieces honor the largely forgotten places and the unknown artists that designed their advertisements. Supplemented by photography, maps and quotes, these advertisements are incorporated in sometimes humorous, sometimes thought-provoking compositions—all with an unexpected twist—that reflect upon changes in landscape and society.
Although nostalgia is key to these pieces, they incorporate elements of perception of place, landscape interpretation, and historical geography to explore the often hidden impacts of commercial homogenization on our communities. Today we can travel the nation—and even the world—and find the same standardized food, gas, shopping and lodging choices along the entire route. These wistful compositions remind us what we are missing with the commercial monotony.
For larger versions of the following artwork, please visit my Flickr Gallery.
| | | |
| --- | --- | --- |
| Maybe Christmas Wasn't Meant To Last Forever | What's Grand About Grand Avenue | Final Last Call |
| The President Slept Here | No Mint on the Pillow | An Overnight Detour |
| Where Your Dollar Goes Farther--Literally | The Lone Diagonal In A Grid Town | A Magic Carpet Ride Sans Jet Lag |
| What's Up in the Duke City | Comfort Food | A Sure Bet |