Welcome to Motels of the Southwest
"This website is dedicated to the celebration
of the classic American neon motel."
Please note: our Web address has changed. We've got our very own name now: Neonmotel.com. Please save it to your bookmarks.
"The Tale of the Tape: A Farewell to My 8-Track Music System" - Douglas Towne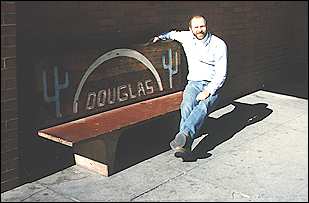 "My altar is a bittersweet acknowledgement of the passage of time, a source of nostalgia for the not-so-young, and an educational tool for youth.
For the past 20 years I've been schlepping my collection of 8-track tapes around, unable to pitch any of it because of the amazing music, associated memories and the mistaken belief that there would be a resurgence in popularity of this now largely forgotten audio format. The altar honors the permanent departure of this obsolete technology from my garage--much to my wife's delight."
Former New Times staffer Douglas Towne presents his altar/ode to defunct technology in conjunction with the gallery's larger "Dia de los Muertos" exhibit. Towne's construct features a still-working J.C. Penney 8-track player booming out stuff like the Fabulous Poodles, Jefferson Starship, and Herb Alpert and the Tijuana Brass.
Artist's Reception:
Friday, November 7, 7:00pm-10:00pm
@Central Gallery
1221 N. Central Ave. (at Burton Barr Central Library)
Phoenix, AZ
(602) 256-3521, (602) 262-4636
---


View some of the pieces from the show in our Gallery.
---
On this site you will find several resources for vintage neon motels and signs from the American Southwest. We are especially proud of our Motels of the Southwest poster, which has been finding its way around the world to homes and offices of fellow neon aficionados.
"I've been having neon dreams ever
    since obtaining the poster. Best
    artwork I've seen in years!"
        - Scott Perlman
        ArtScience Publications

    "I'm never staying in another 
    franchise motel after seeing this
    poster."
        - John Burbank
        Noted raconteur

    "Motels of the Southwest brings
    the soothing neon glow of roadside
    Americana into our home."
        - Andy & Jenny Wood
        Authors Motel Americana

    "This poster, of lovely nighttime
    neon signs, is great for when I want
    to scope them out myself."
        - Shellee Graham
        Author/photographer
        Return to Route 66